The National Weather Service has determined that much of our region received at least 3 inches of rainfall over December 7 through the 8. Some of the unofficial totals show widespread areas receiving between 3 to 5 inches with some areas receiving as much as 6 inches.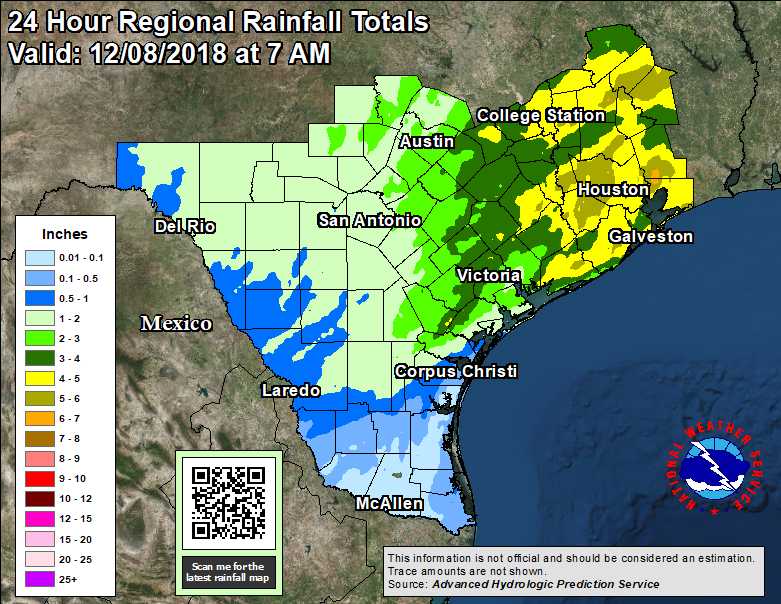 Although a significant amount of rainfall was received, the totals and specific locations varied from the initial forecasts. This has caused the WGRFC to adjust their river forecasts over the past 48 to 72 hours. Yesterday, Hempstead was forecasted to peak around Gage 41.7 feet, but as of this morning, it appears that Hempstead is currently peaking around Gage 40 feet.
As of  their 7:40 AM update, the WGRFC is forecasting the Brazos River to peak around Gage 41.6 feet on Thursday, December 13.
Based on the current forecasts we do not anticipate flooding along the Brazos River through Fort Bend County; however, while the River is elevated, everyone should continue to pay close attention to any additional precipitation in the near future. As of this morning, our rain chances are relatively low for the next several days, with are highest chance for rain on Thursday. Depending on your forecast source, the estimated rainfall over the next several days less than 1 inch.
Stay tuned to your favorite weather source like Space City Weather for weather updates.